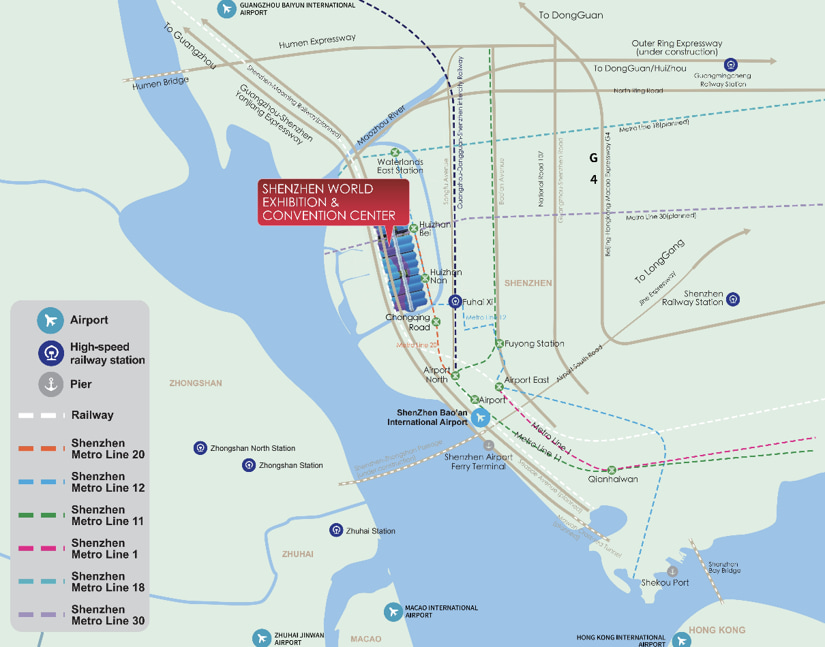 Congress Venue: Shenzhen World Exhibition & Convention Center

Location: No.1 Zhancheng Road,Fuhai Street,Bao'an District, Shenzhen, Guangdong, China
Shenzhen World Exhibition & Convention Center, located at the top of the Greater Bay Area, which is next to Shenzhen Bao'an International Airport, Fuyong Port and directly linked to the metro lines and city rails. Convenient intercity and intra-city traffic facilities make attendees from all over the world to reach the venue easily from Shenzhen Bao'an International Airport, Hong Kong International Airport or Guangzhou Baiyun International Airport.
How to get to the venue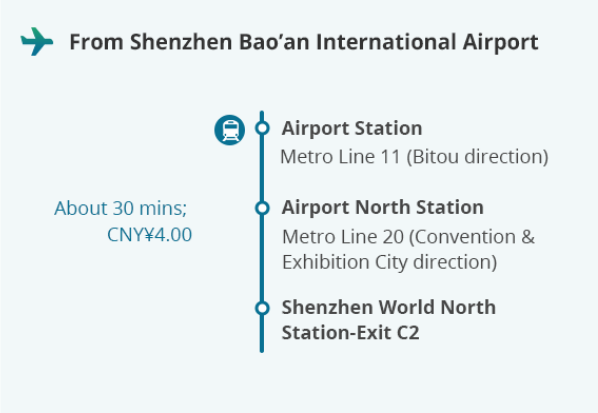 More information about Shenzhen Bao'an International Airport transportation, please click here: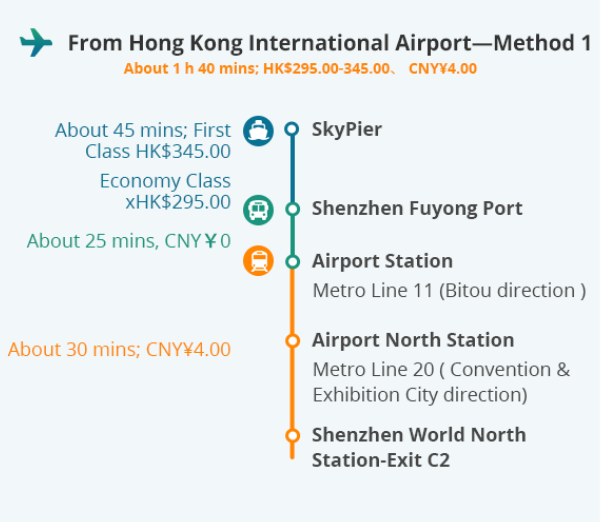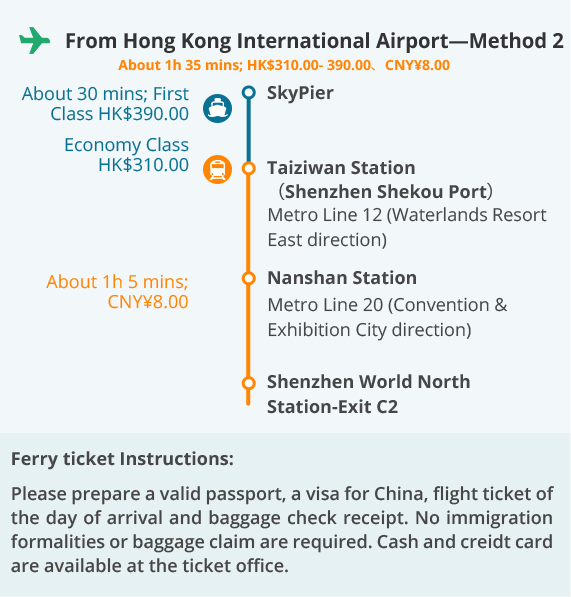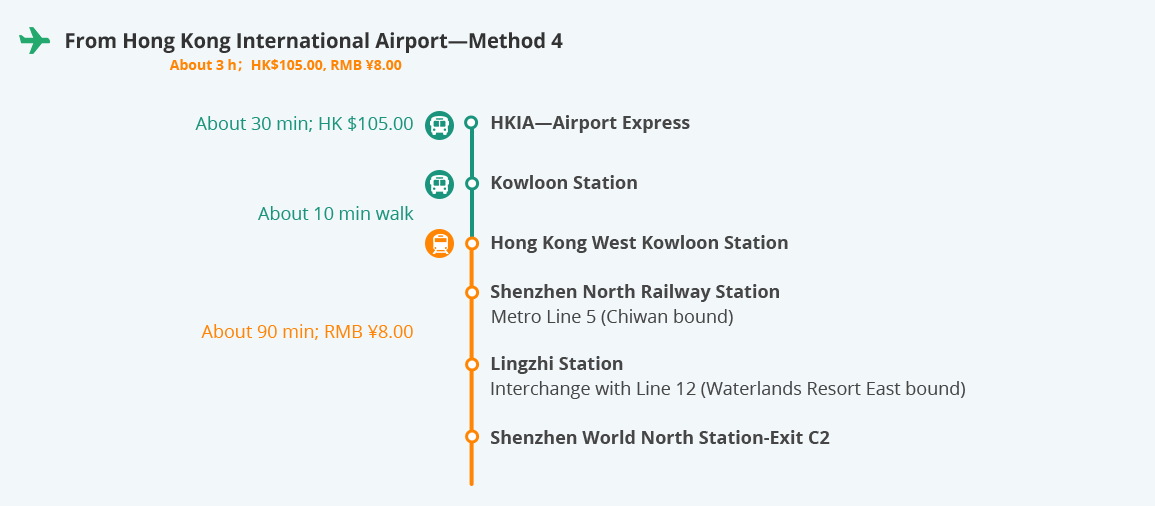 Cross-boundary Coach Ticket Instructions
Please prepare a valid passport, a visa for China. Cash and creidt card are available at the ticket office.

Transportation to Shenzhen World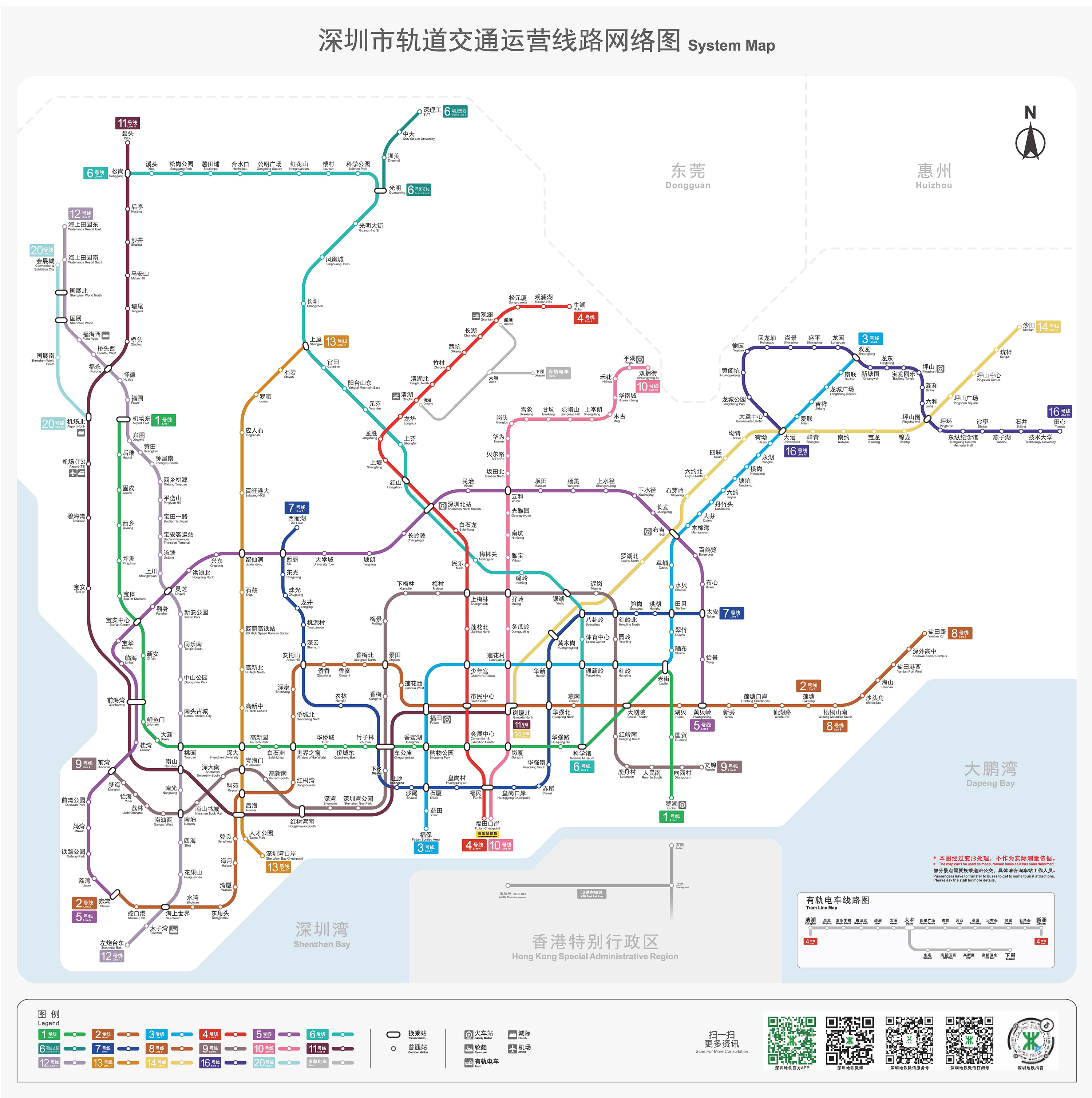 More information about Shenzhen Metro, please click here:
Shenzhen Metro:
Line 12 and Line 20 directly connect to the South Lobby and North Lobby of the venue. You can quickly travel to and from Shenzhen City and the Airport.
Shuttle Bus:
Equipped with shuttle bus, directly linked to Tangwei Station of Line 11 and Airport. Shuttle bus services are provided to facilitate transportation between the venue and metro stations, bus terminals, business centers and hotels nearby.
Bus:
Shenzhen World Exhibition and Convention Center is surrounded by six bus stops and dozens of bus lines.
Taxi:
There are taxi marshalling areas around the Shenzhen World, and taxi drop-off areas at the east side of two lobbies and at the SoutEntrance. Shenzhen's distinctive fleet of blue-hued electric taxis are ubiquitous. Flagfall CNY 10 (30% surcharge on the basic fare from 1 pm to 6 am) with a fuel surcharge and CNY¥2.6 for every additional kilometre.
Downloading Didi Chuxing ( www.didiglobalcom ) to hail taxis in Shenzhen is also a good choice. Didi is the China's most popular ride-hailing app, which has an English interface.
Bike Sharing:
A large number of shared bikes have been placed around the Shenzhen World Exhibition and Convention Center.
Shenzhen Tong Travel Card:
Most of the Shenzhen metro stations sell Shenzhen Tong travel card which can pay for the metro, buses and taxis, A deposit of CNY¥20 is needed when purchase the card. When the card is retunred, the remaining amount and deposit can be refunded accoding to the situation of use.
More information about Shenzhen World Exhibition & Convention Center transportation, please click here: